Please, wait, this page is loading...



NOW AVAILABLE: WORLDWIDE TELEPHONE PROPERTY CURSE BREAKING DONE ON SINGLE FAMILY HOMES, RANCHES, FARMS, VACANT LANDS, AND BUSINESS PREMISES. PLS, CONTACT

REAL ESTATE EXORCIST AND PARANORMAL INVESTIGATOR BROTHER CARLOS OLIVEIRA (COMEDY CENTRAL NATHAN FOR YOU GHOST REALTOR EXORCIST)

VIA TELEPHONE @

415.324.9207

OR BY EMAIL @


RealEstateExorcist@gmail.com



GOT QUESTIONS? THEN PLS CALL

BROTHER CARLOS @

415.324.9207

.

**Are there spiritual activities (ghosts/demons) happening in your home? If so then you need a Property Curse Breaking and Spiritual House Cleansing done the Bible way. Pls., contact Brother Carlos today to schedule yours, In-Person (Fresno, Ca, and surrounding cities) and over the Telephone (worldwide). A suggested donation may apply.

***BECOME A

REAL ESTATE CURSE BREAKING AGENT

IN YOUR REGION. Opportunity to associate with Brother Carlos' Real Estate Curse Breaking Ministry is also available for a limited time and upon request.



WOULD YOU LIKE TO BECOME A REAL ESTATE EXORCIST IN YOUR STATE/REGION? THEN CALL BROTHER CARLOS @ 415.324.9207 TO DISCUSS THAT POSSIBILITY.



HELP YOURSELF AND OTHERS IN YOUR AREA, this is a LIMITED TIME OFFER, pls, take action now before it's gone.
PERSONAL MENTORSHIP IS ALSO AVAILABLE.

STATES WHERE WE ARE AVAILABLE TO PERFORM PROPERTY CURSE BREAKING, ETC... IN PERSON:
CALIFORNIA, NEVADA, OREGON, ARIZONA, GEORGIA, TENNESSEE, FLORIDA, ALABAMA, MISSISSIPPI, NORTH CAROLINA, SOUTH CAROLINA. MORE COMING SOON!
"If you defile the land, it will vomit you out..." Leviticus 18:28
REAL ESTATE EXORCIST & PARANORMAL INVESTIGATOR OF FRESNO, CLOVIS, LOS ANGELES, LAS VEGAS, SACRAMENTO, SAN FRANCISCO BAY AREA, SAN JOSE, SAN DIEGO, CALIFORNIA, NEVADA, ATLANTA GA, SEATTLE WA, FLORIDA, TENNESSEE, MISSISSIPPI, ALABAMA, NORTH CAROLINA, SOUTH CAROLINA.
YOUR HOME IS LONG OVERDUE FOR CURSE AND WITCHCRAFT BREAKING, TAKE ACTION NOW BEFORE IT'S TOO LATE.
IF ANY OF THE FOLLOWING HAS BEEN DONE IN YOUR HOME / PROPERTY THEN YOUR HOME IS CURSED AND NEEDS TO BE SPIRITUALLY CLEANSED AND DEMONS HAVE TO BE CAST OUT OF IT, THAT'S WHEN I COME IN. I MINISTER PROPERTY CURSE BREAKING OVER THE TELEPHONE OR IN-PERSON IF THE PROPERTY IS LOCATED IN THE CENTRAL VALLEY IN CALIFORNIA. I HAVE A VERY UNIQUE BIBLICAL WAY OF GETTING RID OF CURSES, WITCHCRAFT AND DEMONS.
​
Some of the Practices that bring demons and curses upon:
Ouija Board; Séance; Tarot cards; Dream catcher; Human ashes; Abortion; Sex toys; Pornography; Bestiality; "R" rating movies; Crime and violent movies; Horror movies; Sexual movies; Ghost hunting shows; Adultery; Murder; Suicide; Homicide; Child abuse and molestation; Bestiality; Drug use and abuse; Horoscope; Yoga; Meditation; Sage smudge; Incense burning; Crystals; Lucky Horseshoe; Lucky Rabbit's foot; Dungeons & Dragons; Light as a feather; Bloody Mary; Idol worship; Satanic rituals; Pentagram; Hypnotism; Islamic prayer rugs; Rap music, Country music; Heavy-Metal music; Secular music in general; Occult practices; New Age spirituality; More...
​
Leviticus 19:31 "You must not turn to mediums or spiritists; do not seek them out, or you will be defiled by them. I am the LORD your God."
Brother Carlos offers:
"Property Curse Breaking The Bible Way"
In-Person or Over The Telephone.
SINGLE FAMILY HOMES WITH A YARD, FARMS, RANCHES, COMMERCIAL PROPERTIES, VACANT LANDS.
​
***GOT QUESTIONS? CALL US @ 415.324.9207
Powerful Frankincense/Myrrh Anointed Oil made with pure Olive Oil, Prayed Over By Exorcist Brother Carlos Oliveira. Ideal for getting rid of Evil Spirits, Witchcraft, Evil-Eye, For House Cleansing and Blessing, and more @ https://www.demongone.com - 1 fl.oz. THE EXORCIST Anointing Oil is great for expelling evil spirits, breaking curses and witchcraft from people, pets, home, objects, furniture, automobiles, clothing, toys, all items in general, also great for house/property blessing. What do you have to lose? Demons? Curses? Witchcraft? Order yours now @ https://www.demongone.com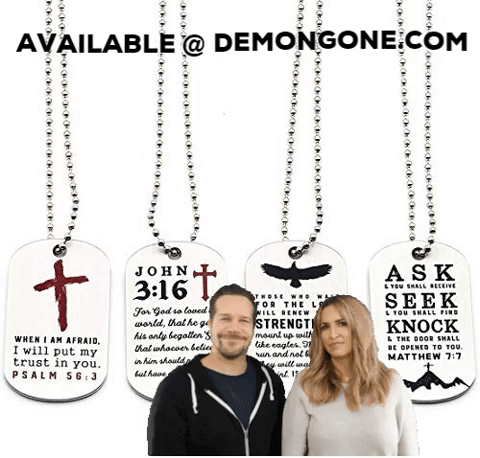 CURSE BREAKING BY BROTHER CARLOS, CHRISTIAN EXORCIST!
Brother Carlos Oliveira is an expert on the subject of Curses, Witchcraft, Demon-Possession, Cursed Sites and Objects and the negative effects they have on humans, such as Incurable Diseases, Chronic Pain, Premature Death, Homicide, Suicide, Depression, Mental Illness, Sleep Disorder, Car Accidents, Divorce, Child Abuse and Molestation; Sexual Perversion, Alcoholism, Drug Addiction, Etc...
Curses negatively affect over 98% of the human population.

Brother Carlos has been featured on National Geographic Taboo, History Channel, Bio Channel, BuzzFeed, Telemundo, NBC News, CBS Eye Witness, Comedy Central, Vice Canada, Rock 100.5 FM Radio, Atlanta GA, The Drive Home 790 KABC, Los Angeles, Etc...
CURSE BREAKING PRAYER Ministered by Brother Carlos Oliveira, Over The Telephone:
to Break Evil Soul-Ties With The Occult;
to Break Evil Soul-Ties With New Age Spirituality;
to Break Evil Soul-Ties With False gods;
to Break Evil Soul-Ties With Religious Idols;
to Break Evil Soul-Ties With Drugs;
to Break Evil Soul-Ties With Alcohol
to Break Demonic Sexual Soul-Ties With Humans
to Break Demonic Sexual Soul-Ties With Animals
to Break Demonic Sexual Soul-Ties With Objects
to Break Demonic Sexual Soul-Ties With Pornography
to Break Generational Curses
to Break Curses of Rejection and Abandonment.
to Break Curses of Depression and Suicide.
to Break Curses of Infirmity, Sickness n Pain.
to Break Curses of Car Accidents n Road Rage.
to Break Curses of Rage, Anger, Hatred.
to Break Curses of Mental Illness n Disorder.
to Break Demonic Sexual Soul-Ties With Video Games
to Cancel All Demonic Assignments Against You
to Break Witchcraft, Voodoo n Black Magic
to Remove All Word-Cursing Spoken Against You
to Destroy All Demonic Attacks Against You
to Break Hexes and Vexes Done Against You
to Break Evil Soul-Ties With Celebrities
to Break Evil Soul-Ties With Secular Singers
to Break Evil Soul-Ties With Athletes
to Break Poverty Curse Spoken Over You by Parents...
to Cast Out Jealousy and Envy Spirits Sent Your Way
to Break Curses, Vows, Judgements You've Brought Upon Yourself
to Break Gambling Addiction Curse
to Break Consumerism Curse
to Break Curses of Food Offered To Demons, You've Eaten
to Break Curses of Food Offered To Idols, You've Eaten.
NOT AVAILABLE AT THIS MOMENT
By submitting a donation you certify that you have read and agreed to the conditions and instructions stated above and that you are 18 y.o. or older.
PERSONALIZED DELIVERANCE VIDEO(S) ADDRESSING YOUR SPIRITUAL ISSUES, RECORDED BY BROTHER CARLOS
Please, watch the above VIDEO for details.
NOT AVAILABLE AT THIS MOMENT
This is NOT a Non-Profit Organization, Donations are NOT Tax Deductible!