Please, wait, this page is loading...
"If you defile the land, it will vomit you out..." Leviticus 18:28
REAL ESTATE EXORCIST OF FRESNO, CLOVIS, LOS ANGELES, LAS VEGAS, SACRAMENTO, SAN FRANCISCO BAY AREA, SAN JOSE, CALIFORNIA, NEVADA.
YOUR HOME IS LONG OVERDUE FOR CURSE AND WITCHCRAFT BREAKING, TAKE ACTION NOW BEFORE IT'S TOO LATE.
IF ANY OF THE FOLLOWING HAS BEEN DONE IN YOUR HOME / PROPERTY THEN YOUR HOME IS CURSED AND NEEDS TO BE SPIRITUALLY CLEANSED AND DEMONS HAVE TO BE CAST OUT OF IT, THAT'S WHEN I COME IN. I MINISTER PROPERTY CURSE BREAKING OVER THE TELEPHONE OR IN-PERSON IF THE PROPERTY IS LOCATED IN THE CENTRAL VALLEY IN CALIFORNIA. I HAVE A VERY UNIQUE BIBLICAL WAY OF GETTING RID OF CURSES, WITCHCRAFT AND DEMONS.
​
Some of the Practices that bring demons and curses upon:
Ouija Board; Séance; Tarot cards; Dream catcher; Human ashes; Abortion; Sex toys; Pornography; Bestiality; "R" rating movies; Crime and violent movies; Horror movies; Sexual movies; Ghost hunting shows; Adultery; Murder; Suicide; Homicide; Child abuse and molestation; Bestiality; Drug use and abuse; Horoscope; Yoga; Meditation; Sage smudge; Incense burning; Crystals; Lucky Horseshoe; Lucky Rabbit's foot; Dungeons & Dragons; Light as a feather; Bloody Mary; Idol worship; Satanic rituals; Pentagram; Hypnotism; Islamic prayer rugs; Rap music, Country music; Heavy-Metal music; Secular music in general; Occult practices; New Age spirituality; More...
​
Leviticus 19:31 "You must not turn to mediums or spiritists; do not seek them out, or you will be defiled by them. I am the LORD your God."
Brother Carlos offers:
"Property Curse Breaking The Bible Way"
In-Person or Over The Telephone.
SINGLE FAMILY HOMES WITH A YARD, FARMS, RANCHES, COMMERCIAL PROPERTIES, VACANT LANDS.
Contact Brother Carlos via email at FresnoHills@gmail.com
LEARN HOW TO BREAK PROPERTY CURSES THE BIBLE WAY!
Pls, request our 25-MINUTE PROPERTY CURSE BREAKING VIDEO TRAINING by Brother Carlos below:
Pls, donate $50

(This package includes a

25-Minute Training Video + 2 PDFs + 4 Other House Cleansing and Blessing Videos, all digital materials by Brother Carlos sent via EMAIL

)
CashApp: $adhonep
Venmo: @BrotherCarlosO


Pls, after donating then email us at

fresnohills@gmail.com

requesting your

VIDEO TRAINING

and it will be emailed to you within a couple of hours along with

2 PDF files + 4 Other Videos

. Thank you!
PLEASE, WATCH THE VIDEO ABOVE
ANOINTED SEA SALT PRAYED OVER, IN THE NAME OF JESUS, BY BROTHER CARLOS, FOR REPELLING DEMONS, FOR BREAKING CURSES AND WITCHCRAFT FROM HUMANS, PETS AND PROPERTIES.
​
USE THIS ANOINTED SEA SALT, PRAYED OVER BY EXORCIST BROTHER CARLOS OLIVEIRA, TO BREAK WITCHCRAFT, EVIL-EYE, HEXES, VEXES, WORD-CURSING, VOODOO, BLACK MAGIC, ENVY, ETC., FROM HUMANS, ANIMALS AND PROPERTIES. AVAILABLE FOR PICK UP IN FRESNO AND CLOVIS, CALIFORNIA.
​
Since Sea Salt was used by Elisha (2 Kings 2:19-22) to break a CURSE upon their
city water (causing death, etc...) causing the land to be unproductive,
we can do the same to break CURSES over properties, homes, cars, pets, humans, etc.
WATER AND LAND CURSE BREAKING (2 Kings 2:19-22)The people of the city said to Elisha,
"Look, our lord, this town is well situated, as you can see, but the water is bad
and the land is unproductive." "Bring me a new bowl," he said, "and put salt in it."
So they brought it to him. Then he went out to the spring and threw the salt into
it, saying, "This is what the Lord says: 'I have healed this water. Never again will
it cause death or make the land unproductive.'" And the water has remained pure to
this day, according to the word Elisha had spoken.
​
MEANING OF SALT IN THE BIBLE
According to Exodus 34:28, 2 Chronicles 13:5, 2 Kings 2:21
- It makes that which is of no taste or bad taste, palatable;
- he people of God were commanded to season all their sacrifices with salt;
- By reason of the salt covenant, every unpleasant thing shall be made sweet;
- The covenant of people binds people together and also binds the people to
- God who is their creator;- The covenant of salt speaks of dominion and kingship.
It is a sign or symbol of goodwill and favors;
- Salt is symbolic in the removal of corruption;- Salt is meant to symbolize a mighty
spiritual weapon and a cleansing agent;
- Salt also talks about loyalty;- Salt is an agent of addressing all the toxic things in society;
- Salt also means a healing agent in the Bible.
DIRECTIONS AND INSTRUCTIONS ON HOW TO USE IT:
​
BROTHER CARLOS' ANOINTED SEA SALT FOR PROPERTY CURSE BREAKING:
Mix 3 tablespoons of Brother Carlos' Anointed Sea Salt into a gallon of water then use a spray bottle to spray the water
around the house (indoors). Also spray the salty water around your yard next to the
fence / walls. PLS, REPEAT THE PROCESS ONCE A WEEK FOR 4 WEEKS, THEN ONCE EVERY 6 MONTHS THEREAFTER.
​
BROTHER CARLOS' ANOINTED SEA SALT FOR HUMAN CONSUMPTION:
- Cook using the salt as you please;
- Eat the salt with salad as you please;
- Mix a teaspoon of salt into a 1 liter (33oz) of drinking water (or the quantity you like)
drink it little by little throughout the day, every day for a week or so, repeat the process
as you please. You can also spray a little bit of salty water on your head, arms, legs, etc...
BROTHER CARLOS' ANOINTED SEA SALT FOR PETS:
Just spray a little bit of salty water on pets (the same water used for property), once a week
for a month, then once every 3 to 6 months thereafter.
WARNING: Headaches and other symptoms such as diarrhea, vomiting and others may occur temporary as demons leave your body and curses and witchcraft are being broken.
Please, Donate $29 (Priority Mail Shipping Included) below then email us your MAILING ADDRESS at fresnohills@gmail.com and we will ship it to you (HOW-TO-USE INSTRUCTIONS INCLUDED). U.S. ONLY. If you live overseas then we will email you the DO-IT-YOURSELF VIDEO.
CashApp:
$adhonep
Venmo:
@BrotherCarlosO
Powerful Frankincense/Myrrh Anointed Oil made with pure Olive Oil, Prayed Over By Exorcist Brother Carlos Oliveira. Ideal for getting rid of Evil Spirits, Witchcraft, Evil-Eye, For House Cleansing and Blessing, and more @ https://www.demongone.com - 1 fl.oz. THE EXORCIST Anointing Oil is great for expelling evil spirits, breaking curses and witchcraft from people, pets, home, objects, furniture, automobiles, clothing, toys, all items in general, also great for house/property blessing. What do you have to lose? Demons? Curses? Witchcraft? Order yours now @ https://www.demongone.com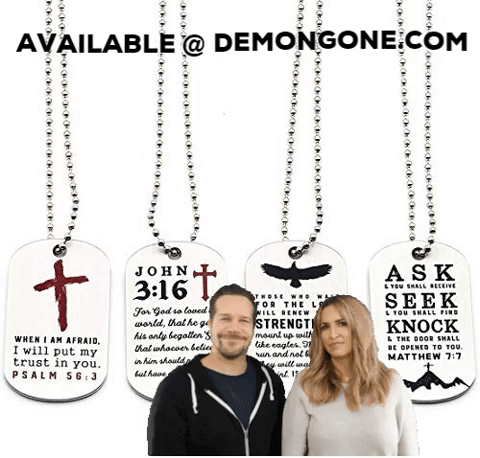 SELF DELIVERANCE PRAYER: Please pray at least once. PRAY IT OUT LOUD! -

Heavenly Father, I ask that you forgive me of all sins I have committed against you and against those made in your image. Lord I ask that Your angels surround myself and my family members and protect us according to your word in Psalm 34:7. I now declare Isaiah 54:17: "No weapon formed against me and my family members shall prosper" in the mighty Name of Jesus Christ, Ya'shua haMashiach, His Hebrew Name. Amen.

In the Name of the Lord Jesus Christ, as it relates to me and my family, I bind all Satan's evil spirits, occult spirits, spirits of sin, spirits of trauma, familiar spirits, demonic forces, satanic powers, principalities, attributes, aspects, clusters, endowments, and satanic thrones: I bind all kings and princes of terrors. I bind all demonic assignments and functions of destruction from any demonic entities from outer space, the air, water, fire, the ground, the netherworld, and the evil forces of nature. I bind all interplay, interaction, communication and all their games between satanic and demonic spirits, out of, and away from our spirits, minds, bodies and souls.

In the Name of Jesus Christ, I sever all demonic spirits from any demonic ruler above these demonic spirits. I revoke any orders given to any of these demonic spirits and demonic forces concerning me and my family. I bind all demonic entities under the one and highest authority. I loose you, evil spirits, from us now, I loose you to where Jesus Christ sends you. Your assignments and influences in our lives are broken now! In the Name of the Lord Jesus Christ. Amen!

In the Name of Jesus Christ, I declare broken and destroyed all spells, hexes, vexes, curses, voodoo practices, witchcraft, occult, masonic and satanic rituals, masonic and satanic blood covenants, masonic and satanic blood sacrifices, demonic activities, evil wishes, coven rituals, all occult, Islamic and coven fasting prayers and curse-like judgments that have been sent our way and have been passed down through my family generational bloodline. I loose them to where Jesus Christ sends them. I ask forgiveness for, and renounce, all negative inner vows made by myself. I ask you Lord Jesus Christ that you release us from these vows, and from any bondage they may have held us in. Lord, in the name of Jesus Christ, do not remember the iniquities of our forefathers against us. (Psalms 79:8)

In the Name of the Lord Jesus Christ, according to Hebrews 4:12, I take the Sword of the Spirit, which is the Word of God, and cut myself and my family members free from all generational- inherited sins, weaknesses, character defects, personality traits, cellular disorders, genetic disorders, learned negative inner vows, and spiritual and psychological ties. I cut all bonds that are not of the Lord, and put the Blood of Jesus Christ between us. I cut all bonds of the relationships of each one of us that are not of the Lord, back to the beginning of time and all present and future generations. By the Sword of the Spirit, and in the Name of Jesus Christ, I say that we are cut free, and we are free indeed. We are now free to become the children of God as the Lord intended us to be... THIS PRAYER CONTINUES HERE

Share this Prayer (page) on
facebook

to help others and receive double blessings upon you and your family!

>>>>
BECOME A MINISTRY PARTNER TODAY!!!
​
Ministry Partners are those who support this mission by donating any amount whenever possible.
​
Brother Carlos prays for Ministry Partners LIVE on the internet daily from Sundays through Saturdays, during our daily LIVE Streaming (8 am PST - 11 am EST). Our Ministry Partners also receive intercessory prayers (off cameras) throughout the day, every day.
​
Become a Ministry Partner today, choose one of the donation options above.
​
This is NOT a non-profit organization,
Donations are NOT tax-deductible!
​
Thank you!
This is NOT a Non-Profit Organization, Donations are NOT Tax Deductible!